Lexington, KY – Nov. 6, 2022 – The 139th edition of the National Horse Show came to a close Sunday after twelve days of competition, which brought riders from all over North America to the fields of the Kentucky Horse Park. The final day of showing welcomed the nation's top junior equitation athletes to the Alltech Arena for the prestigious ASPCA Maclay National Championship, presented by Chansonette Farm.
Since 1933, the Maclay National Championship has been one of the most sought-after distinctions within the junior equitation circuit. Every fall, junior riders travel from all across the country to close out their indoors season with the historic junior final. Sunday's championship saw a steep field, with 221 young riders competing for the winning title and ASPCA Alfred B. Maclay trophy.
Course designer Bobby Murphy (USA) crafted the first round course. Known for his challenging tracks that require more forward, accurate riding, the 2022 event marked Murphy's ninth time building the ASPCA Maclay National Championship course. As always, 12 immaculately decorated fences comprised the first round track – but this year's course witnessed a uniquely creative addition, as three students from the Equine Studies Program at the Savannah College of Art and Design submitted their jump-creations in a design contest judged by Murphy and fellow NHS representatives. The students worked alongside Murphy to bring their creations to life, integrating stylish designs, prints, and floral color-theories to elevate the traditional hunter course to a more technical designation, well-deserving of a medal Maclay ride. SCAD student Maddison Aguilar won the contest with her design, which featured a jump wall fashioned with the letters on the prestigious class. Judges also held Savannah McCants' hedge stairway in high regard, remarking on the cleverness of the hedge.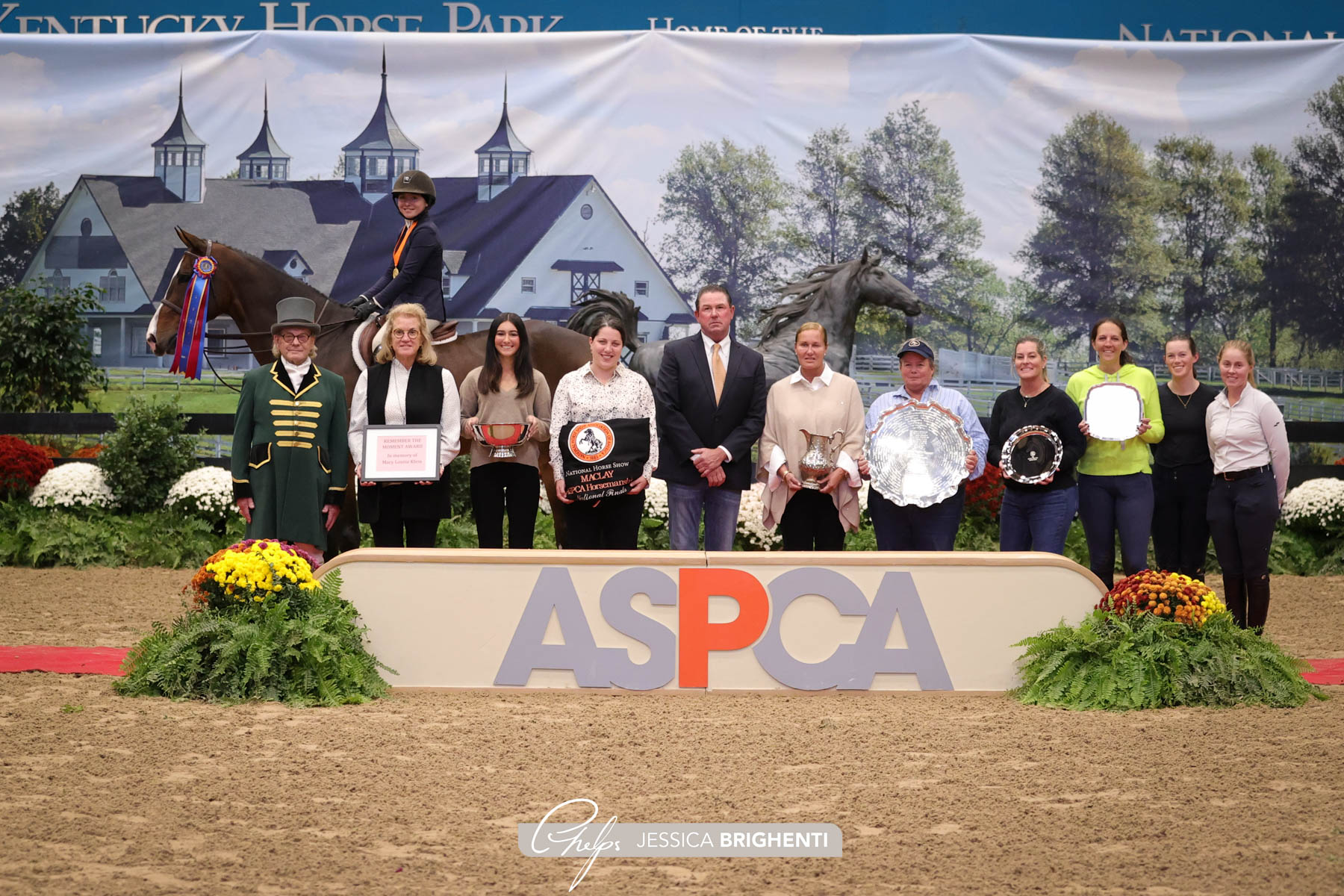 Shortly after the reveal of Murphy's magnetic course, judges turned their focus to the main attraction – the athletes. Riding in back-to-back rounds, juniors battled it out after the massive field was whittled down to a group of five, who were brought back once more to test. Judges invited the 24 riders to return in reverse order of preference for the third phase of competition, a second over fences trip. The track, once again laid by Murphy, would feature a number of obstacles from round one, but with a new pattern that posed new challenges for the young horse-and-rider pairs.
The test featured a series of technical variations; a hand gallop to fence two, a canter towards fence nine, a walk transition followed by a turn on the haunches, and a reverse counter canter towards fence eight. Isabella David and Castlefield Spartacus, her Oldenburg gelding, were up first in the test, followed by Augusta Iwasaki and Izar. In a surprise to no one, Iwasaki and Izar, Ashland Farm's KWPN Gelding, made quick and handy work of the test in complete unison, demonstrating the depth of their partnership. Luke Jensen and Jamaica, a Belgian Warmblood gelding owned by North Run, gave Iwasaki and Izar a run for their money, but couldn't topple the titans, who have seen a stellar two-years dominating the circuit, boasting wins from coast to coast. Tessa Downey and HH Moonshine, her Holsteiner gelding, overtook Carlee McCutcheon and Chacco Star to move into third after an elegant appearance in the final ride of the evening.
After nearly 12 hours of competition across four classes, the sport's most talented young rider (and obvious crowd favorite) finally emerged victorious, winning the one title that had eluded her the most throughout her junior career: the Alltech saw Augusta Iwasaki crowned Champion of the 2022 ASPCA Maclay National Championship.
"I honestly am so shocked, I can't really believe this happened. I went very early this morning and I thought we put in a solid round, probably not the best round we have ever had," comments Iwasaki. "I kept fighting all day long and was just hoping to do the best that I could. This has been so special and this is my last show as a junior so it is amazing."
The National Horse Show would like to thank all competitors, exhibitors, vendors, sponsors, and supporters of their 2022 event.
Click here to view the full press conference.
RESULTS:
2021 ASPCA Maclay National Championship, presented by Chansonette Farm:
Place / Rider / Horse / Trainer
1. Augusta Iwasaki / Izar / Chris Iwasaki
2. Luke Jensen / Jamaica / John Brennan
3. Tessa Downey / HH Moonshine / Peter J Pletcher
4. Carlee Mccutcheon / Chacco Star / Max Amaya
5. Isabella David / Castlefield Spartacus / Stacia Madden
6. Ellie Aronson / Conthaco / John Brennan
7. Addison Reed / Janus Union / Andre Dignelli
8. Stella Wasserman / Caracas 89 / Stacey Weiss
9. Alexander Alston / Ferry Von Den Hoogeweg / John Brennan
10. Kate Egan / Ypaja Kashmir / Emil Spadone